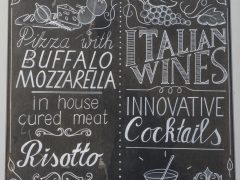 100 meters west of the Catholic church , Samara , Samara, Guanacaste 50205
The Italian-fusion restaurant where you will have one of your best dinners during your stay in Costa Rica, if not the best one. Gigio Palazzo, the owner and chef of the restaurant, supported by his great staff will impress you with every meal he serves. Carpaccios, salads, pizzas, pastas, meats, fish, desserts, and even cocktails, everything will surprise you.
The menu is the outcome of a person that lives to cook and who gives free rein to his immense creativity: his meals will take your palate to another level. You can choose to sit outside or inside; the two places have their own charm.  Come to Mama Gui and let yourself be amazed by its culinary art!
Important Information
Gigio the owner and head chef is a member of the "Best Chef of America" ​​James Beard Foundation, and is certified in gluten-free cooking.
They offer dinner service at home, excellent option to spend an intimate time with family and friends tasting high quality dishes.
They accept  Visa or Mastercard Cards.
Free Wifi for customers.
A/C
Wednesday
6:00 pm - 10:00 pm
Thursday
6:00 pm - 10:00 pm
Saturday
6:00 pm - 10:00 pm